Released on July 4, 2013 • Al Campos & SoulHarmonic, a 5 song EP entitled, "Can't Wait 'til Tomorrow."
Once again, Al Campos & his band have released a very soulful, funky and energetic collection of 5 brand new original compositions, giving their fans as well as music lovers in general the very best soul & funk music to come out of this region of the world, precisely, Copenhagen Danmark!
Don't get it twisted, the band leader, singer, songwriter & trombone player & Executive Producer, Al Campos brings his American musical culture and his roots which can clearly be heard & felt in all of the 5 tracks.
What makes it unusual and unique is when you bring into the mix, the Scandinavian perspective and expression, making this music very funky with a new & different sound.
This Scandinavian spirit is played by the great musicians, Martin Finding (guitar), Thomas Risell (bass) also known as Marlowe DK (the world famous online bass teacher), Daniel Fridell (keyboards & producer) & Michael Finding (drums & percussion).
This EP was recorded in Copenhagen Danmark
Husum Snake Pit Studios
Vocals & Trombone recorded at, The HitShip "Valhal"
All 5 songs were Mastered in Los Angeles by former Tower of Power guitar player, Mr. Carmen Grillo.
Band History
Al Campos's first call was the bass player and old friend, Thomas Risell, followed by the Finding brothers, guitarist Martin & drummer, Michael. The Finding brothers then suggested a very beautiful and talented singer, Susanne Carstensen.
Then one day, Al was taking a walk down the walking street in the centre of Copenhagen when he heard a very funky street musician, playing guitar, Bob Porter.
Al Campos hired him on the spot and he joined the band, although he would always return to the street during the daytime.
All they needed was a keyboard player. The original keyboard player was Peter Hellemann who did the gig for a few months. He was followed by Swedish player, Mats Madestam. But ultimately, the band finally met the very funky Swedish player, Daniel Fridell who replaced Mats on keyboards and has been with the band since 2003.
The Music
In the beginning,the band played old school cover songs by artists such as, Bill Withers, Al Green, Stevie Wonder, Marvin Gaye and many others. It was important to play songs that the guests may remember or at least have some familiarity with. But of course, Al Campos could not only play other artists music. He began writing his own songs for the band and bringing them into the set.
The summer of 2006 the band began recording in the studio what would become their first CD. When all the recording sessions were complete, the band were listening to the rough mixes when Al turned to the band and said, "we have got some hits here." Some of the band members, had a hard time believing the words Al was saying. They didn't dare believe it!
The Royal Recording Studios, Memphis Tennessee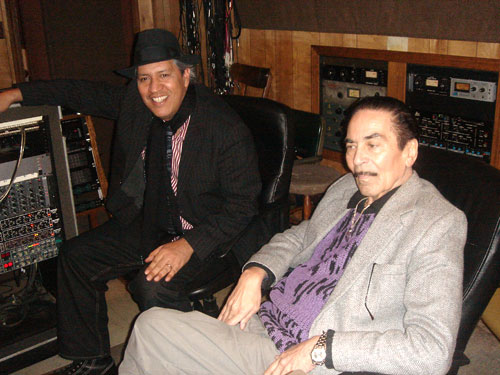 Al contacted the producer, Willie Mitchell of legendary soul singer, Al Green to ask if he would mix the album. He called Memphis, Tennessee at the Royal Recording Studios and spoke with Boo Mitchell, the son of Willie.
Boo mentioned that his dad was getting up there in age and was not really working so much in the studio like before. But before the conversation ended, Al suggested that he send an Mp3 file just to listen to before any final decision was made. Boo agreed that would be OK. The next day, Boo Mitchell called Al Campos in Denmark. "Can you send another track?" Boo asked. Another track was sent and 24 hours later Al got another phone call from Boo. "I played the songs for my dad and he would like to mix the album, together with me." In February 2007, Al Campos flew over to Memphis Tennessee to meet Willie & Boo Mitchell at the Royal Recording Studios.
That trip changed the life of Al Campos, especially after he heard the mixes and Willie Mitchell said to him, "The torch has been passed to you. You may be an unknown artist to the world now but your music has deep roots and background in soul music. You are the one to carry this music forward." Al was so humbled and so deeply moved by the words of this incredible man & producer who has written and produced so many huge classic soul hit songs for Al Green, that he just cried with pride.
That CD Willie Mitchell and Boo Mitchell mixed was, "Old School Lovin.'
Released by positiveSOUL Productions, the CD is available on iTunes, CDbaby, Amazon and all other major internet music portals.
In the summer of 2009 the CD was re-released in Japan by Grey Dog's Records.
Follow the band & the progress of the upcoming CD: