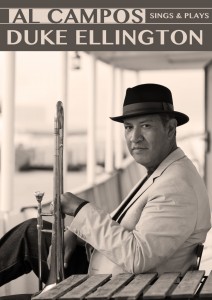 Singer & trombone player Al Campos has been working on what he calls, 'Versions of Ellington.'
Performing songs such as "Take the A Train," normally an upbeat tune, Al & his quartet slow it down and make it groove in a whole different way.
Hearing that trombone play the lead on "In a sentimental mood" is both beautiful and moving.
"It don't mean a thing (if it ain't got that swing)" always gets the audiences laughing, singing and remembering that this too is an Ellington classic.
"Satin Doll," "In a mellow tone," and "Don't get around much anymore," all such great songs and for Al Campos & his quartet, they absolutely love the vibe with the audience as they perform such incredible melodies & arrangements.
Growing up in a jazz home: In my house, growing up in Los Angeles, with my mother who was a gospel singer & piano player, I always heard jazz music, gospel & soul.
My natural direction was gospel, funk, soul, but jazz was always something I loved but never dared to sing. As a trombone player I have played jazz since way back in my high school days playing in the Eagle Rock jazz stage band but singing was a whole other story.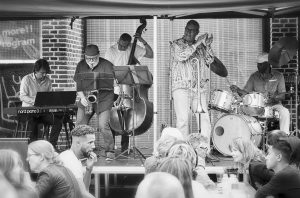 For me, singing jazz is much more than just singing evergreens, playing in some clubs and then calling yourself a jazz singer. I've heard way too many cheesy singers singing all the cliché licks and phrases which always turned me off to jazz vocalists. Of course there are many great singers out there but I just thought that if I ever did try to sing jazz that I'd be true to myself, do it in my own way and not try to copy the style of expression that so many singers often do.