Hello!
This is Al Campos and as I sit here in Copenhagen looking out of my studio window (and before I hit the pavement for a 10K walk) to beautiful sunshine, blue skies with friendly & fluffy clouds sailing by, I am inspired to share some of the latest news of exciting and inspiring activities I have had the pleasure of partaking in.
For example, in February I was visiting the Seychelles with my family. One Sunday morning I decided to find the local church near my hotel where  I heard a local gospel choir singing for the morning service. As I sat there enjoying the service, I thought of how much fun it would be to do a small workshop with the choir and musicians during one of their rehearsal evenings.
I waited until the service was over when I introduced myself to the choir and pianist. I offered to come and work with the choir and perhaps teach them a couple of songs that I normally do with my other choirs in Europe. They all loved the idea.
This photo shows the small choir & piano player during our one evening together singing Praises in this wonderful church on a magnificent island.
---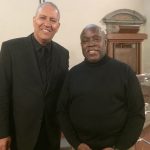 Recently I was visiting Florence Italy where I had the great pleasure of meeting this amazing gospel musician, singer & instructor, Pastor Nehemiah H. Brown.
Like myself, he is an American living in Europe for over 20 years. He's a son of a pastor like myself and when he's not preaching, he's teaching gospel and vocal techniques throughout Europe.
We had such a great time meeting each other, dining together and spending time talking about teaching and sharing Gospel music. After a few hours hanging in his favourite Greek restaurant in Florence, he invited me to come and be a guest singer for a Sunday night service with his choir and band.
What a great experience it was to be singing Praise & Gospel in a wonderful old church in the middle of Florence Italy. An experience I look forward to doing again in the near future.