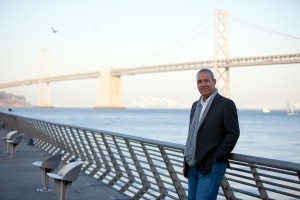 Al Campos is a trombonist, vocalist, composer, producer and educator. He performs in the genres of Soul, Jazz, Funk & Salsa, with deep roots in Gospel music.
He was born and raised in Highland Park, Los Angeles, CA, and has lived in Oahu, HI, San Francisco, Chicago and Copenhagen DK.
Being the son of his father, a preacher & a gospel singing mother, he was brought up in church. Singing in his first church gospel choir at age 11, Al continues to compose & sing gospel music to this day.
Al's life long friend and uncle, Andraé Crouch as well as his twin sister, Sandra Crouch have been most responsible for his knowledge and inspiration within the Gospel genre. "I owe about 100% of what I know and love of this music to Andraé and Sandra. I've been extremely Blessed and lucky to have them in my life as a best friend, spiritual and musical teacher."
Al Campos is also the owner and founder of his own independent recording label & production company, positiveSOUL Productions which he started in his North Beach apartment in San Francisco, CA.
In 1988 he met and married his Danish wife who was visiting San Francisco from Copenhagen. Two years later in April of 1990, after the 1989 earthquake, they both moved from San Francisco to Copenhagen, Denmark.
Since moving to Copenhagen in 1990, Al has worked with some of USA's biggest Gospel artists as they made their way performing through Scandinavia. Artists such as his own uncle, 9 time Grammy award winner, Andraé Crouch, Edwin Hawkins (Mr. Oh Happy Day himself), Richard Smallwood, Patrick Henderson, Ricky Grundy, Gerald Smith, Gerome Bell, & others.
Al Campos is also the founder of the brand new, positiveSOUL Gospel Academy located in Copenhagen, Denmark.
With his own band, Al Campos & SoulHarmonic they have released two CD's and have performed throughout Denmark and have had the pleasure of touring East Africa three times.
In 2015 Al Campos graduated and received his teaching degree at N. Zahles Lærerseminarium (teacher seminarium) in Copenhagen as an English and Music teacher.
From 2016 and currently now in 2021 he is teaching music and english at Al Quds Skole in Copenhagen.